The force returns to Minecraft once more, this time with even more content in store! Today, we explore the Minecraft Star Wars DLC, the cost of admission, and all the lore fans will get to experience in a new blocky form.
Minecraft Star Wars: Path of the Jedi
Set during the Clone Wars, players begin their journey as a young padawan at the Jedi Academy. Not only can they explore its hallowed halls, but there they will encounter a whole cast of iconic characters, including Grand Master Yoda himself.
Further yet, players will be able to take to the stars, where an uncharted planet awaits alongside villains and monsters who intend to stand in your way. Will you master the new lightsaber and force mechanics to see this journey to its end?
Star Wars Skins and Cosmetics
Alongside the fully fleshed-out adventure, players will obtain cosmetics and skins to wear on any server. These include multiple characters, dressing room items, and even a free R2D2 t-shirt! And if that is not enough, during the DLC your lightsaber can be completely personalized, making it one of a kind.
Price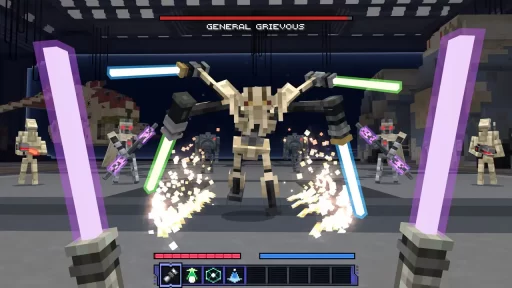 The Minecraft Star Wars DLC is available on the Minecraft Marketplace for 1510 Minecraft Coins, translating to roughly $8.77 USD, with the 1720 Minecraft Coin Bundle costing $9.99. As for the ratings, initial reviews have it at four and a half stars. A perfect adventure or holiday gift for any Star Wars fan!
Minecraft Star Wars DLC Released
Another exciting cross-over DLC has come our way, which leaves us wondering what the next one will be! Perhaps some Blizzard titles since Microsoft now owns both companies? It wouldn't cost them anything. What do you think the next DLC will be? We simply can't see them not using all their new IPs.
Until Next Time,
MelonCube Hosting =)