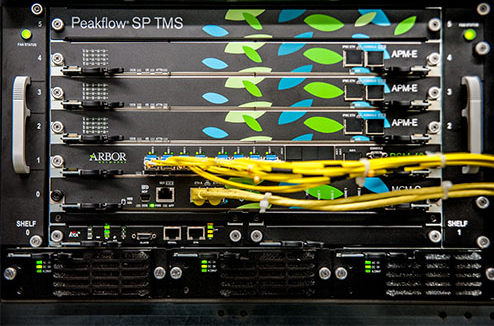 Arbor Reactive Mitigation
The chances of your server being targeted by a DDoS attack are great and attempts are numerous. All MelonCube servers will benefit from automatic DDoS mitigation (reactive mitigation) as a standard in the event of an attack.
---
Important Features
Servers are protected at bandwidth speeds in excess of 3 Tbps
Protects against all types of attack (TCP, UDP, ICMP, GRE, SYN, ACK, RST)
Attacks are spread across three data centers in North America and Europe
Mitigation starts in less than 15 seconds after an attack begins
Protection will last until there is no more incoming malicious traffic
Players experience no lag or downtime once DDoS protection is active
Pre-Firewall: Cisco Nexus 7009 (480Gbps), Firewall: Cisco ASR 9001 (360Gbps)
Primary protection by Arbor Networks® PeakFlow® (SP TMS 4000) (90Gbps)
Secondary protection by custom Tilera appliances (TILEmpowerGX 36) (240Gbps)
---
Frequently Asked Questions
Do I need to activate DDoS protection?
No! There is no need as our entire network is protected and therefore all servers are automatically protected without the need of any further configuration or setup.
My server is unreachable, am I being DDoSed?
You can open a support ticket with our support team who will be more than happy to investigate and resolve the cause of your server being unreachable.