Bikini Bottom has arrived in Minecraft courtesy of a brand new Spongebob DLC, perhaps one of the biggest crossover DLC packs in the game's history!
Here's everything you need to know about the Minecraft Spongebob DLC including its price, content, and everything in-between.
Release Date
The Spongebob DLC went live in Minecraft on June 26th in the Minecraft Marketplace.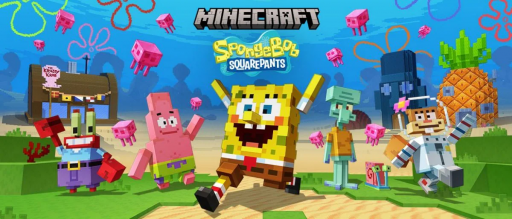 Like other DLCs, this will be available for a long time, so players won't miss out if they're late to the party.
DON'T MISS IT: Minecraft 1.19 Biomes: All New Additions in The Wild Update
Content
The Minecraft Spongebob DLC is one of the more developed packs Mojang has put out so far, fitting the massive series it welcomes to the game.
This content includes a massive recreation of Bikini Bottom and its inhabitants. It also includes over 40 new skins, six epic quests, the ability to play as many characters from the show, a racing minigame, a concert area, a jellyfish-catching minigame, puzzles, and plenty to explore with Patrick, Spongebob, Squidward, Mr. Krabs, and others.
DON'T MISS IT: Minecraft Legends: Release Date, Gameplay & Latest News
Trailer
Check out the Spongebob DLC trailer below in order to see it in action, showing off the recreated Bikini Bottom and all of its potential adventures!
Price
The Minecraft Spongebob DLC is available in the Minecraft Marketplace for 1340 Minecraft coins. This translates to roughly $7.50, with the 1720 Minecraft Coin bundle costing $9.99.
This price is the standard for all Minecraft crossover DLCs from famous series, though most of these packs have less content than what the new Spongebob DLC offers. As one of the most developed and best-looking DLC packs yet from Mojang, compared to others, it seems like quite a deal.
DON'T MISS IT: Minecraft 1.19 Mobs: All The New Additions in The Wild Update