---
Overview
Resetting a Minecraft world allows for a fresh start, promoting creativity and exploration. Over time, worlds can become cluttered and may hinder performance. Resetting provides a clean canvas and can help troubleshoot issues like glitches or conflicts with mods.

Note: Make a backup of existing saves on the server.

How To Reset a World on a Minecraft Server
Step 1. Log in to the Multicraft Panel.




Step 2. Stop the server.




Step 3. Note the name of the current world.




Step 4. Go to the File Manager tab on the left.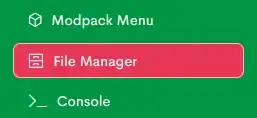 Step 5. Mark the checkbox beside the name of the world folder from Step 3.




Step 6. Select the Delete button.




Step 7. Confirm by clicking the Delete button.




Step 8. Start the server.