---
Overview
Using FTP (File Transfer Protocol) to connect to a Minecraft server provides a reliable and secure method for transferring files between a user's computer and the server. It ensures that files remain intact during the transfer process and minimizes the risk of data corruption. Additionally, FTP allows for the efficient management of Minecraft server files.

Note: Cyberduck is the recommended FTP client for Mac and Windows.

How To Connect to a Minecraft Server Using an FTP Client
Step 1. Download and install Cyberduck.

Step 2. Open Cyberduck.



Step 3. Select Open Connection.




Step 4. Log in to the Multicraft panel.




Step 5. Go to the File Manager tab on the left.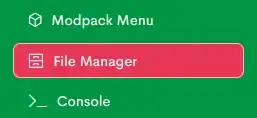 Step 6. On the upper right, select FTPS Credentials.




Step 7. Copy and paste the credentials into the fields on Cyberduck.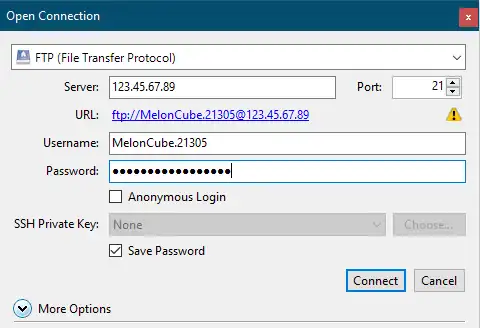 Step 8. Click Connect.




Step 9. Confirm the connection by choosing Continue.