To be able to install a resource pack on your server, you must provide a direct download link through dropbox. This link can be pasted into your server.properties to automatically install resources to players of the server.
Use the following tutorial to upload your resource pack to Dropbox, create the direct download link, and configure your server to utilize the resource pack. 
Step 1. Upload your zipped/compressed resource pack to Dropbox.

Step 2. On the Dropbox file viewer, copy the download link using the link icon next to the file.




Step 3. Log in to your Multicraft control panel.

Step 4. Select File Manager.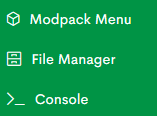 Step 5. Click Edit on the server.properties file.




Step 6. Paste the link after "resource-pack=" config.




Step 7. After pasting the link, change dl=0 to dl=1 to convert it to a direct link.
        Example: "https://www.dropbox.com/s/stvvss2zcc9j55e/MelonCubeResource.zip?dl=1"




Step 8. Click Save and close.




Step 9. Restart your server.