In this tutorial, we will point your domain name to your Minecraft server using an A record. A records will point the domain to an IP address. If you have a port number other than port 25565 on your IP address, you have to
create an SRV record instead
. 
1. Login to your Billing panel and go to
Domains
->
My Domains
.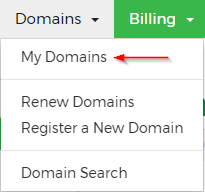 2. Click the
Manage Domain
icon on your domain. 

3. On the left-hand side menu, click
DNS Management
.
(If you don't see this option, please create a support ticket)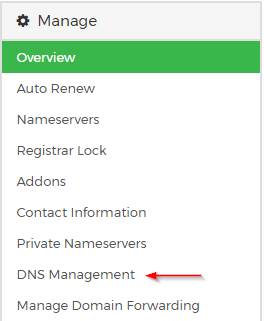 4. Click
Add A New A Record
. 

5. Now we have to enter the following details for the A record: 
Hostname 
is the subdomain, for example, if you want players to join using
play
.example.com, enter
play
as the hostname. If you want players to join just using
example.com
, enter
@
as the hostname.
IPv4 Address
 is the IP address of the server. Enter your IP address here without the port number.
TTL
 should be 
14400
.
6. Now click
Add Record
. 

7. All done, you should see a confirmation message similar to below. 

ISPs and DNS providers cache DNS records. It can take up to 24 hours for your ISP/DNS Providers to update the A record and for it to start working for everyone.