Getting a custom domain for your server will make it easy for players to remember your server's IP address. To register your own custom domain, follow the steps below. 

1. Go to Domains -> Register a new Domain on the billing panel.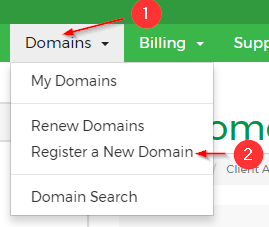 2. On this page, you can search the availability of domains. Enter the domain that you would like to register followed by the TLD (ex: .com and .net). And click Search.  




3. If the domain you entered is available. Click Add to Cart and then click Checkout to order your domain. 




4. However, if the domain you entered is not available, it will show available suggestions at the bottom, you can either pick one of the suggested domains or search for a new domain.



 
5. On checkout, you have a couple of add-ons that you can choose. 


DNS Management: We need this addon to tell the domain to point to your server, select this free addon.
ID Protection: By default, domain ownership details such as your name and address will be available for public record, you can hide that info by purchasing this add-on. (Optional)



6. You will also have to enter the nameservers, leave the default nameservers unless you know what you are doing. Click Continue to order your domain. 





Once you have purchased the domain, follow the tutorial below to point your domain to your server:
Setting up the domain for a dedicated IP
Setting up the domain for a non-dedicated IP